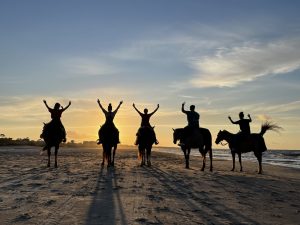 $50
Would you like your beach ride experience to be documented with photos/videos? Then this low cost addition is for you! We have been taking pictures for 17 years and know the shots to take during the ride. Every company takes complimentary shots at the turn around point. This package is for those who want the special shots taken throughout the ride that the we know how to get. We love going the extra mile to get the shot we know you will love. Nowadays, cell phone cameras are just as good, if not better, than digital cameras and much easier to carry. If you have and iPhone, we airdrop photos/videos to you. If you have an android, we will use your phone for this service.
**PLEASE DO NOT MISTAKE THIS SERVICE FOR A PROFESSIONAL PHOTOGRAPHY SESSION WHICH CAN RUN $300 OR MORE**
If you would like that service, we have photographers that we can recommend.
Here are some photos we have taken!